Prime Time Performance: Mehfil-e-Qawwali
A soulful Qawwali performance comprising live renditions of age-old compositions by Danish Husain Badayuni, the grandson of the legendary musician Ustad Nissar Husain Khan Sahib, that will pay homage to the rich legacy and tradition of this venerable art form and trace the histories and stories associated with it. Qawwali, not just as a traditional art form but as a cultural symbol to rightfully represent the essence of 'unity in diversity' of India. The unifying aspect of Qawwali, which is part of the living history of the diverse cultures in India. Special emphasis on the regional Sufi traditions and its impact on the form of Qawwali. Qawwali is increasingly becoming a de-centered art form no longer limited only as a part of the religious institutions and the Khanqahs. A kinship-oriented form – and the impact of modern times on the preservation of the form.  
Mehfil-e-Qawwali will be a performance with its rich and cultural-traditional heritage with a narrator leading the audiences through the music with historical references and stories associated with the popular Qawwalis sung. These performances are an ode to the rich legacy and tradition of music and it traces the histories associated with the music. The raw spirituality of mystical voices from the Sufi Shrines and their stories narrated on stage all woven into one big experience for the listeners. The popularity of Qawwali has always touched the hearts of people and became an integral part in the music of Hindi cinema. It's not only the tradition that is explored, it is a whole experience of the search for the Divine through music and moves into the realms of spirituality. The perfect setting. The perfect concept. Mystical, Otherworldly, Ethereal, yet real.
The Qawwali would be performed by Danish Husain Badayuni and his team.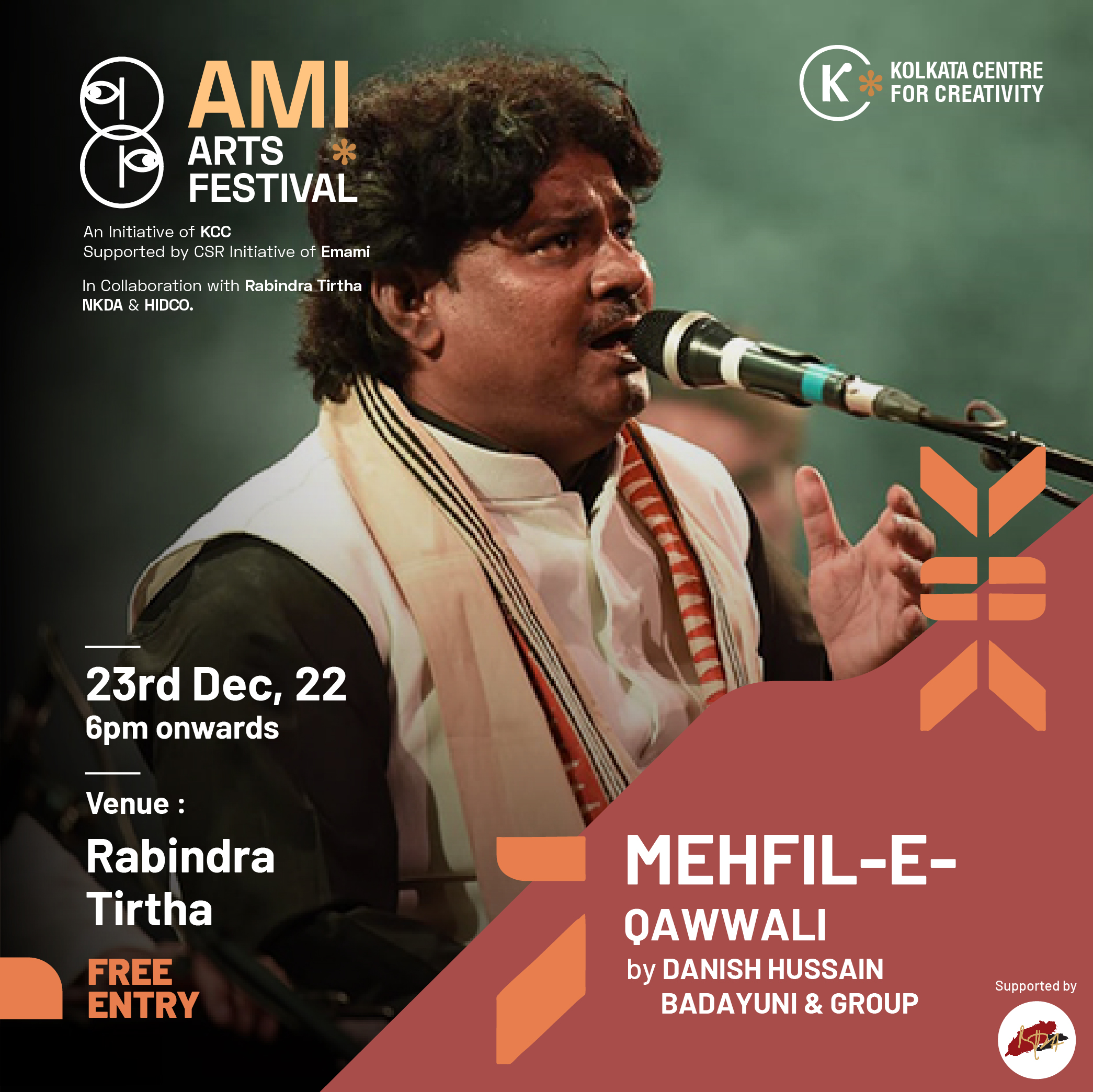 FREE ENTRY
Venue: Open-air Stage, Rabindra Tirtha
Date: 23rd December
Time: 18:00 Hrs (IST) onwards
About the Performer
Danish Husain Badayuni, a Qawwal from Badayun, Uttar Pradesh, is the torchbearer of one of the most illustrious schools of Qawwali. He is a disciple of the great Ustad Nissar Hussain Khan of the Rampur Sahaswan Gharana and regularly sang as part of the Qawwali team of Wajahat Hussain Badayuni, the descendent of the legendary Ustad Jafar Hussain Khan Badayuni, who was renowned for his Sufi music. Danish Husain has performed at many prestigious platforms all over India like the Serendipity Festival, the Jahan-e-Khusrau Festival and the Urdu Festival to name a few. He continues to reside in Badayun keeping alive the tradition of Qawwali that is rooted in its ancient heritage.