Perform in Response, K. C Pyne's exhibition - LA FEMME ET LA MER
Kolkata Centre for Creativity is presenting La femme et la mer by dance artist, Vanessa Maria Mirza in "Perform in response" program as K.C.Pyne's exhibition's collateral. La femme et la mer is a solo performance for a female dancer created from the inspiration of K. C. Pyne's painting Wave evoking powerful images of the sea, combined with the concepts of bold risk (seen in the piece Dare Journey) and the delicate nuances of the feminine body (depicted in his nude series). The choreography also reflects on the imagery used in Charles Baudelaire's poem L'homme et la mer / Les Fleurs du mal describing the complexity and vastness of the sea and its relationship with man. The dance echoes moments and memories from both a real and imagined personal history with the sea in impacting, witnessing and shaping key turning points in life. Dressed in red, the dancer's movement capture the fluidity and depth of a passionate woman emboldened by the voice of the sea. Using a soundscape that is layered with sounds of the sea and seagulls calling, the accompaniment is a collage of recorded sounds, voice and musical impulses reminiscent of the sea as well as social interactions.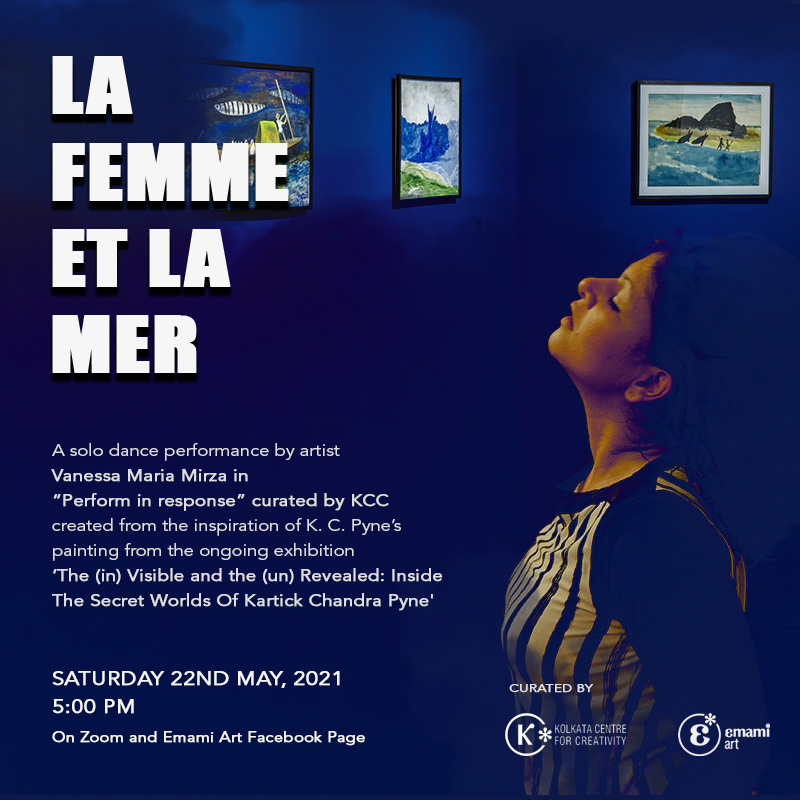 Name of the Artists - 
Vanessa Maria Mirza
Vanessa Maria Mirza is a choreographer, visual artist and curator based in Kolkata, India. Her recent choreographic works include 'Dream Realms', 'Under Face', 'I Do Care About You', 'Her Song'. 'Somebody', 'Stronger' and 'Why Not'. Her choreography has been performed in Taiwan and India. Her work 'Somebody' was shortlisted for the Prakriti Excellence in Contemporary Dance Awards (PECDA) 2018. She collaborated with UK based theatre artist Imogen Butler-Cole for a new physical theatre production 'Shashito Shorir/Disciplined Body' as part of the Indo-European Residency in Kolkata supported by the British Council and CIMA Gallery. She has also recently collaborated with US music artist Zachary Ray for the choreography for the music video for his single 'Let Go' and with UK artist Dane Hurst for his international dance film 'Beyond Barriers'.
She is the Founder and Artistic Director of Dance Bridges Festival and has represented the Festival at international forums including the British Dance Edition 2016 in Cardiff -UK, TPAM 2017-Performing Arts Meeting in Yokohama-Japan, American Dance Recon 2017 in New York, Philadelphia & Jacob's Pillow Dance Festival (Berkshires), USA, Aerowaves Spring Forward Festival & Spotlight USA 2018 (Sofia & Plovdiv Bulgaria), Biennale de la Danse de Lyon 2018, (Lyon, France), CINARS Biennale 2018 (Montreal, Canada) and the Indo-French Malraux Seminar 2019/2020 (New Delhi. India) organised by Institut Francais and the Embassy of France in India. She is an ATSA (Art Think South Asia) Fellow for 2018-2019 supported by the British Council, Goethe Institute, Khoj Foundation and Piramal Foundation. She led the curation of international dance artists in a collaboration of Dance Bridges Festival for the digital edition of international dance artists in a collaboration of Dance Bridges Festival for the digital edition of Kala Ghoda Arts Festival 2021 (Mumbai, India).
As a Chin-Lin Foundation for Culture & Arts Scholarship recipient she has trained at Taipei National University of the Arts in the Master of Fine Arts (Choreography) program between 2008-2010 and 2011-2013. Her dance training includes studies in modern dance, ballet, contemporary dance, jazz, contact improvisation, tai chi, flamenco, martial arts and Balinese dance. Additionally, she has attended masterclasses at London School of Contemporary Dance (The Place, UK), Tanzfabrik Berlin (Germany), Hong Kong Dance Festival, Taipeidea Festival (Taipei, Taiwan) & CNDC (Angers, France). Her recent movement research has focused on Gaga dance technique with intensive online training with dancers of Batsheva Dance Company and other artists in New York/Tel Aviv. Since 2004, she has taught and choreographed for a number of school and college concerts, social outreach programmes, dance companies and festivals in Kolkata and other parts of India.