Mukhota : The World of Masks
Mukhota: A World of Masks— our upcoming exhibition at KCC will consist of Lieutenant General Anil & Anupama Chauhan's collection of over 100 unique masks. For the very first time, this impressive collection will be put on display for the public. The exhibition will showcase Mayan Masks from Mexico, Piagi Masks from Ancient Rome, Masai and Matata Masks from Kenya, Baganda Mask from Uganda, Eskimo Masks from Alaska, Ravana Masks from Srilanka, Noh Masks from Japan, Panjurli Masks from Tamil Nadu, Kolam Masks from Kerala, Bibhishan Masks from Bishnupur, Jatayu Masks from Majuli, Naga Masks from Kohima, Monpa Masks from Arunachal among others. 
Though at first glance these visually distinct masks of various colours, shapes, and sizes, might reflect the diversity of our cultural beliefs, differences in religious and ritualistic idiosyncrasies across continents and within our own country, there lies in them a common thread of humanity and lived experience that Mukhota promises to reveal through this major exhibition, the collateral performances, and a host of engaging lectures by leading subject-experts. This excellent exhibition will provide the Kolkatans with a singular opportunity to traverse and learn more about the world and about one's own country.
Between securing our borders and chalking out military strategies, 'masked' amidst masks and yet hiding in plain sight, is also Lt. General Chauhan's inspiring story of collecting masks, laden with valuable insights and fascinating anecdotes. Moreover, Mukhota will organise a walk-through and presentation by the Lt General, and also open up for the enthusiasts a space for one-on-one dialogue with the collector himself.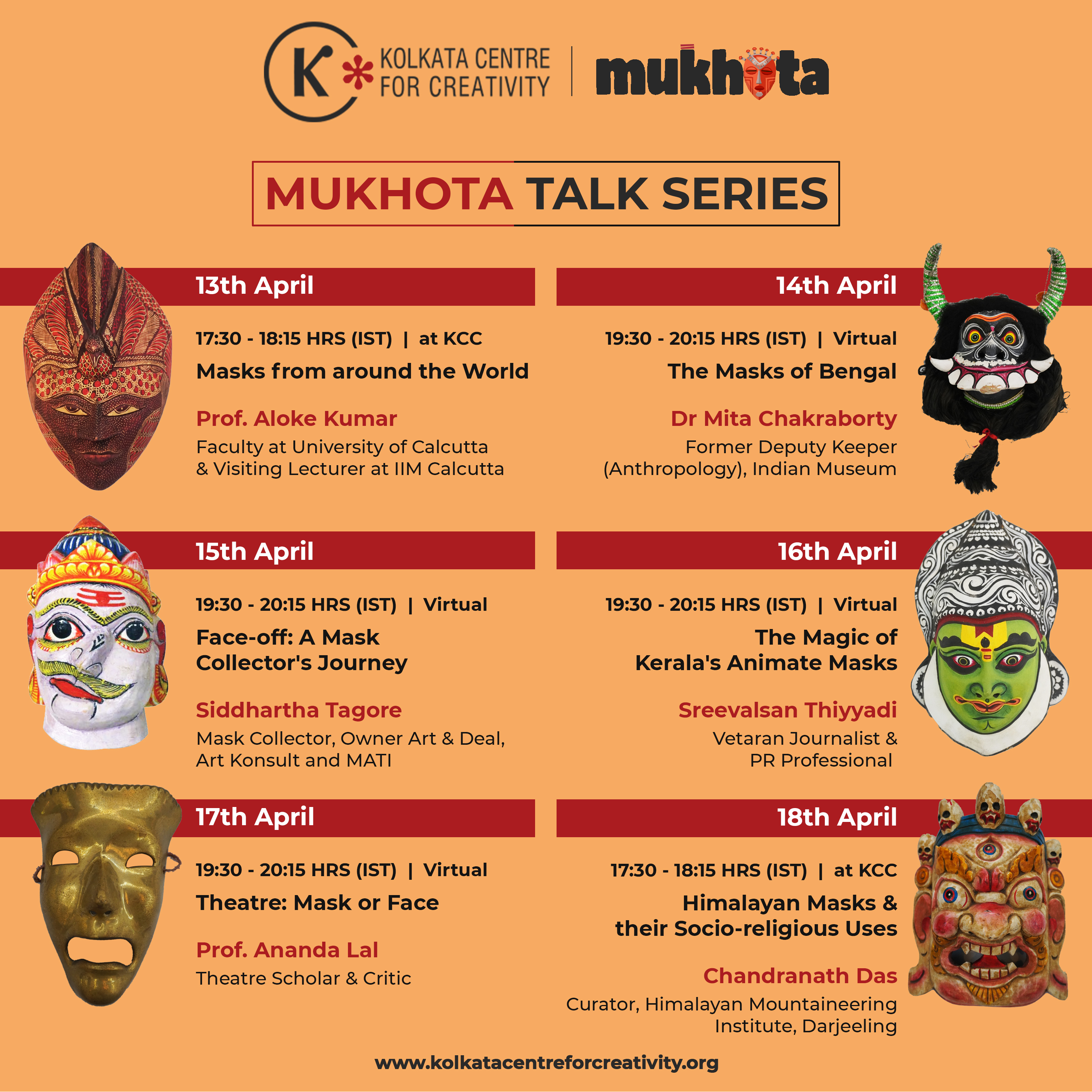 Exhibition Dates - 11th to 18th April, 2021

Exhibition opening Time -  11:00 - 18:00 Hrs (IST)

Admission - Free

Curated By - Ms. Reena Dewan, Director, Kolkata Centre for Creativity

Registration Link