KCC Emerging Artists Platform 2021 -2022
Eligibility Criteria
Applicable for Dancers – classical/contemporary, Movement Artists, Theatre practitioners and Multidisciplinary performing artists
Solo or duet performances are invited for application.
Original works of self-created and/ or self-contextualized performance by the artist(s) will be given preference.
Applicants profile must have a history of minimum 2 to maximum 4 self- created performances in past.
Minimum 5 years of training of the creator in the proposed discipline is expected.
Creators personal dramaturgical outlook and purpose of creation would be considered as an important criteria of selection.
Artists between 21 to 35 years of age are eligible to participate in EAP program by KCC.
The performance must be of minimum 45 minutes to maximum 90 minutes, of any verbal language or it could be even non-verbal.
Space generic performances would be given preference.
The performance space does not have any wing, top rig or hanging facility. Performancesthat does not essentially need such set up are requested to send submission.
The performance space is able to offer 6 KW power maximum. The technical requirement of the performance must comply to these criteria most certainly.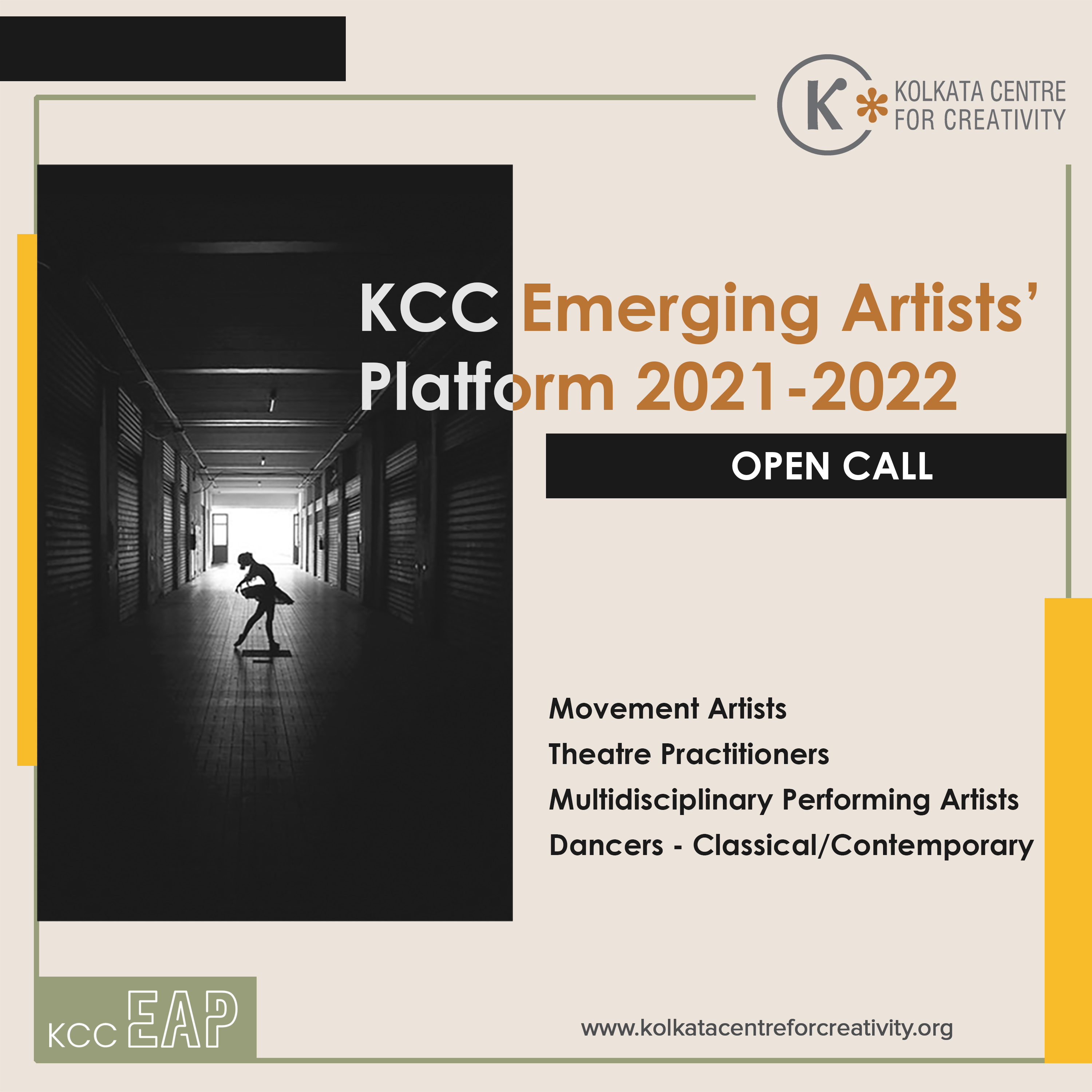 Things to Submit
A filled up application form (to be submitted in PDF format).
Proof of training and previous creations by the artist to support the required criteria.
A video link of the performance/ grand run of the performance proposed
A complete tech-rider. (KCC has the right to request necessary changes depending on the available facilities in the space).
High resolutionheadshot(s) showing face clearly of Artist(s) (Min 3 MB).
5 high resolution photographs of the performance (Min 3 MB).
Things Offered
Performance space at KCC.
Technical support as agreed by KCC. (terms and conditions applied)
Promotion and marketing support as per standard guidelines of KCC.
Remuneration for performance INR 5000.00 to the creator (for more than one creator, the amount will be divided)
Travel allowance (3rd AC train ticket from any metro city to Kolkata, to and fro, for one) and accommodation in shared dormitory (2 nights for one) will be provided for selected artists based outside Kolkata.
High resolution photographs and an edited high resolution video of the show.
Interaction with an eminent critic/ senior practitioner after the performance.
Mention in KCC Website.
Coverage of a post-show review in KCC Magazine.
Deliverables of the selected Artists
Shared responsibility of promotion and marketing.
For promotion of program, only the designs and text provided by KCC can be used and it cannot be altered in any way. Artists cannot create a creative on their own to promote the program in any case.
Mention of KCC's support while promoting the show.
Video and written testimony about EAP program of KCC.
Artist will give up the rights of self-documentation of the show (both photography and videography) at KCC.
In case of artist'sself-appointed photographer / videographer, all documentation must be shared with KCC. The photo/videographer would be appointed by the Artists, would need to work in sync with KCC team and follow the standard norms. Also while using any documentation of this particular show at KCC, the logo of the organization must be used as watermark.
N.B: After the submission of testimony and documentation from the artist's side, the remuneration will be released.
EAP open call is opened till 30th November and shortlisted candidate will get reply by 15th December
Application form send to submission.kcc@akst.org.in
DOWNLOAD EAP FORM