For the first time, AMI Arts Festival will host a Canadian Film Screening in collaboration with the Canadian High Commission and the National Film Board of Canada on 19th and 20th December at Rabindra Tirtha. Four films with a Canadian-Indian connection will be screened during these days. 
19th December
Film Screening: 2:00 – 4:15 PM
THEME: Gender & Inclusion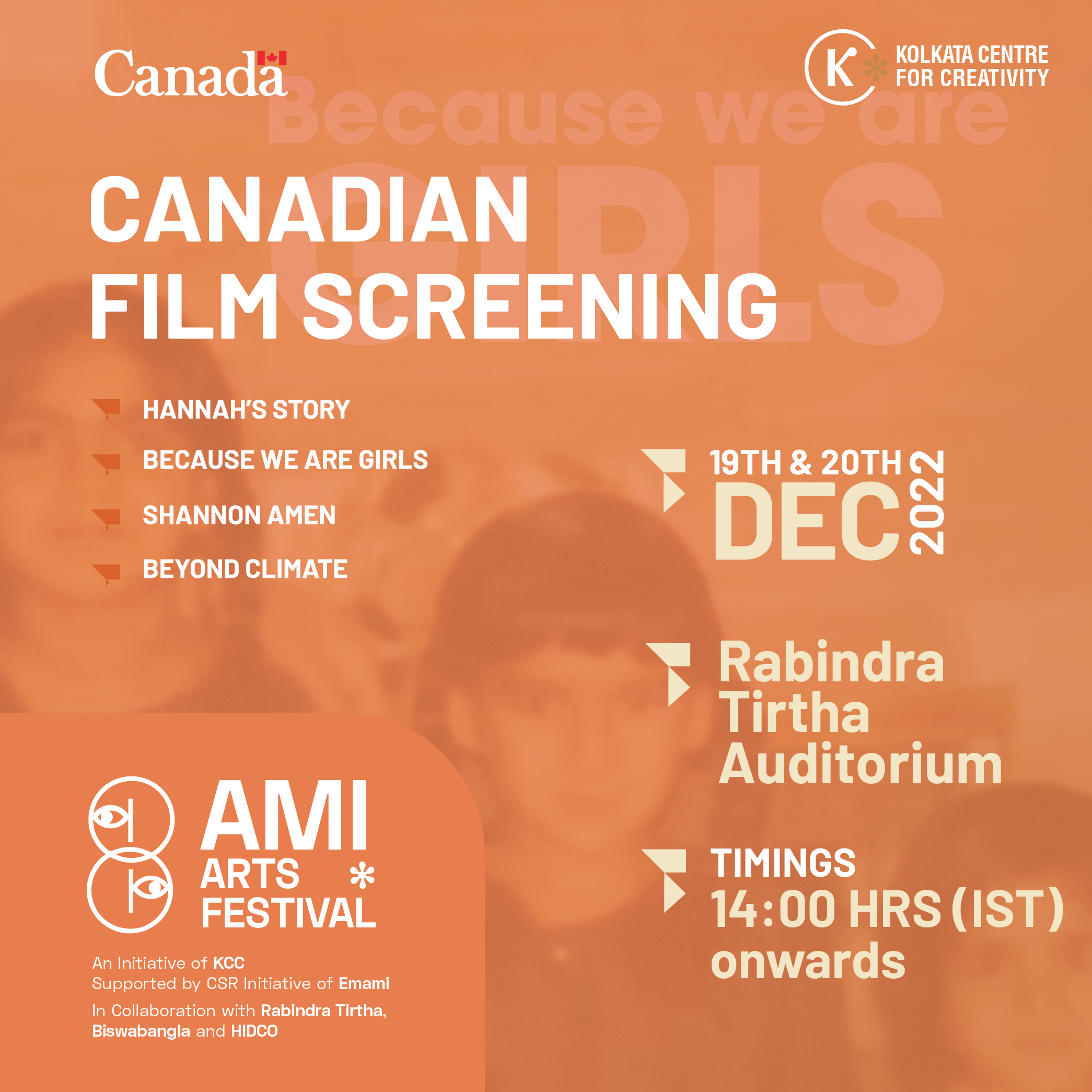 1.Hannah's Story by Juanita Peters, 2007 | 29 min
2.Because We Are Girls by Baljit Sangra, 2019 | 1 h 25 min
3. Shannon Amen by Chris Dainty, 2019 | 14 min
Panel discussion: 4:15 – 5:15 PM
Panelists: Ms. Ananya Chakraborty (Former Chairperson of West Bengal Commission for Protection of Child Rights), Ms. Raina Roy (Founder Director of Sambhabona), Ms. Saira Shah Halim (Peace Activist, Member, Kolkata Swasthya Sankalp).
Moderator: Prof. Dr. Lipi Ghosh (Former Director WSRC, University of Calcutta, Fulbright–Nehru APE Fellow)
20th December
Film Screening: 2:00 – 2:50 PM
THEME: Home is where the Earth Is 
Beyond Climate by Ian Mauro, 2018 | 48  min
Panel discussion: 2:50 – 3:30 PM
Panelists: Dr. Sugata Hazra (Environmentalist and Professor of Oceanographic Studies, Jadavpur University), Ms. Shamayita Das (National Science Magazine Broadcaster, All India Radio), Dr. Urmi Sengupta (Faculty, Communicative English, The British Institutes, Kolkata)
Moderator: Debasish Sen Sharma (Guest Lecturer, Department of Mass Communication and Journalism, St. Xavier's University Kolkata).