Amorphous: A Dance x Film Project devised by Ronita Mookerji & Priyanshi Vasani
Amorphous is a personal visual-journal of two Female Artists exploring the question of Identity and 'Being' through the language of Contemporary Dance and Visual Documentation. The self-research based experimental collaboration highlights female physical form in its raw state of pure feminine energy and as a body that hold history of generations of women in their family, thereby, exploring what is beyond this 'Form' in the present day context of Contemporary, globalised India.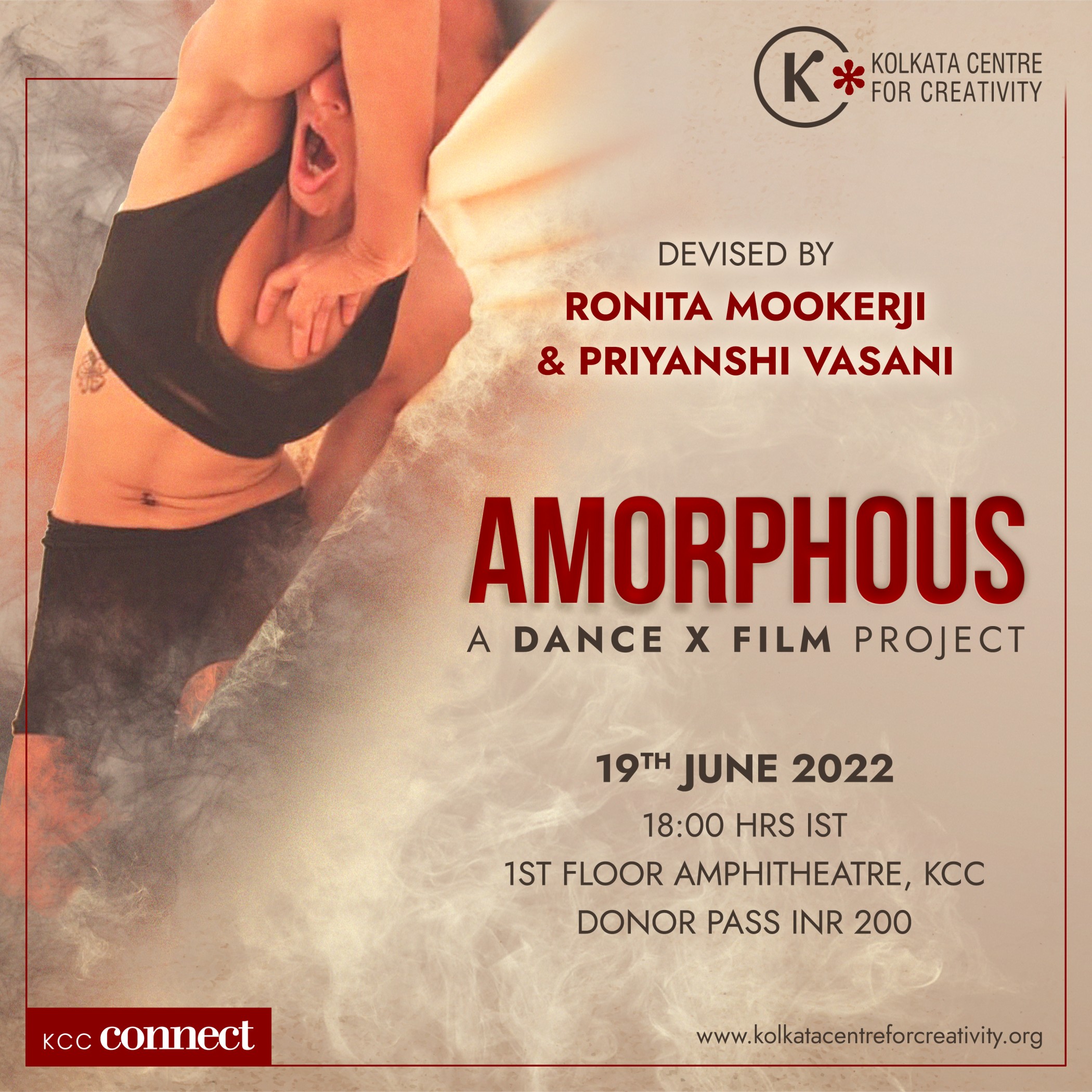 Date  - 19th June, 2022
Time - 06:00 PM
Location  - 1st floor (Amphitheatre)
Name of the Participating Artists - Ronita Mookerji 

Ronita Mookerji is an award-winning Choreographer and Performer and works as an Independent Contemporary Dance Artist/Teacher for over 13 years now. Before, she has been trained in Bharatanatyam ( Indian Classical Dance ) for over 20 years. She has done a Diploma in Movement Arts and Mixed Media in 2008 at Attakkalari Centre for Movement Arts, Bangalore. She was a part of the Attakkalari Dance Repertoire from 2009-16. . She won THE BEST PERFORMER AWARD in PECDA 2016 for "WHO?" which later won the funding for THE BENCH PROJECT 2017,toured 8 cities in UK & London. In Germany, she worked with THEATREBREMEN(2014-16) as a Guest Performer from the Goethe Institute(India&Germany) for  "BELLEVILLE " choreographed by Samir Akika. Ronita has been an Artist-in-Residence in many countries like Australia, Japan ,U.K., South Korea. Some of her choreographies are "I See Dreams in Grey''( JAPAN) , Zameen (AUSTRALIA), "WE Need the Heaters ON" (JAPAN), "Thinking Inside the Box" (Germany), Power Trip (London & India), Amorphous (A Dance Film Project, India).
She has just returned from a tour in Germany (2021) of her recent endeavour : An Audio-Visual Immersive Performance " If We Vanish" funded by the Goethe Institute Co-Production Fund along with Multi-disciplinary Artists and touring in India too. 
She has done Theatre Productions also, namely, Khwaab-Sa with The Company Theatre, I Am Not Here & A Brief History of Hair by Deepika Arwind. At Present, she is teaching Contemporary Dance/ Movement online in her series Restrictive Spaces over 2 years since the Pandemic and has also choreographed an online Students' Performance INERTIA. She has also performed on several online platforms naming ALT.CNTRL.FEMME, Sanskar Online International Performance Festival with her self choreographies AMORPHOUS along with Priyanshi Vasani and LET'S CALL IT A NIGHT with Gaby Davies. She is also a certified Yoga Instructor.
Register Here