10 Years of ThinkArts: A Celebration
With exhibitions, performances, workshops, and film screenings in association with Kolkata Centre for Creativity, ThinkArts marks their 10th anniversary by presenting something for every child and their grown-ups too! Featuring puppeteers, dancers, storytellers, and artists from around India, this series of events will be held at KCC on 18-19 November and offer imaginative experiences for children and young people through an engagement with the arts.

ThinkArts was founded in December 2013 to facilitate high-quality, transformative arts events for children and young adults, based on the belief that regular creative experiences are essential for children to develop their imagination and emotional intelligence. In the years since, their work has reached over 100,000 children in India, working with several schools and collaborators in nearly 50 cities.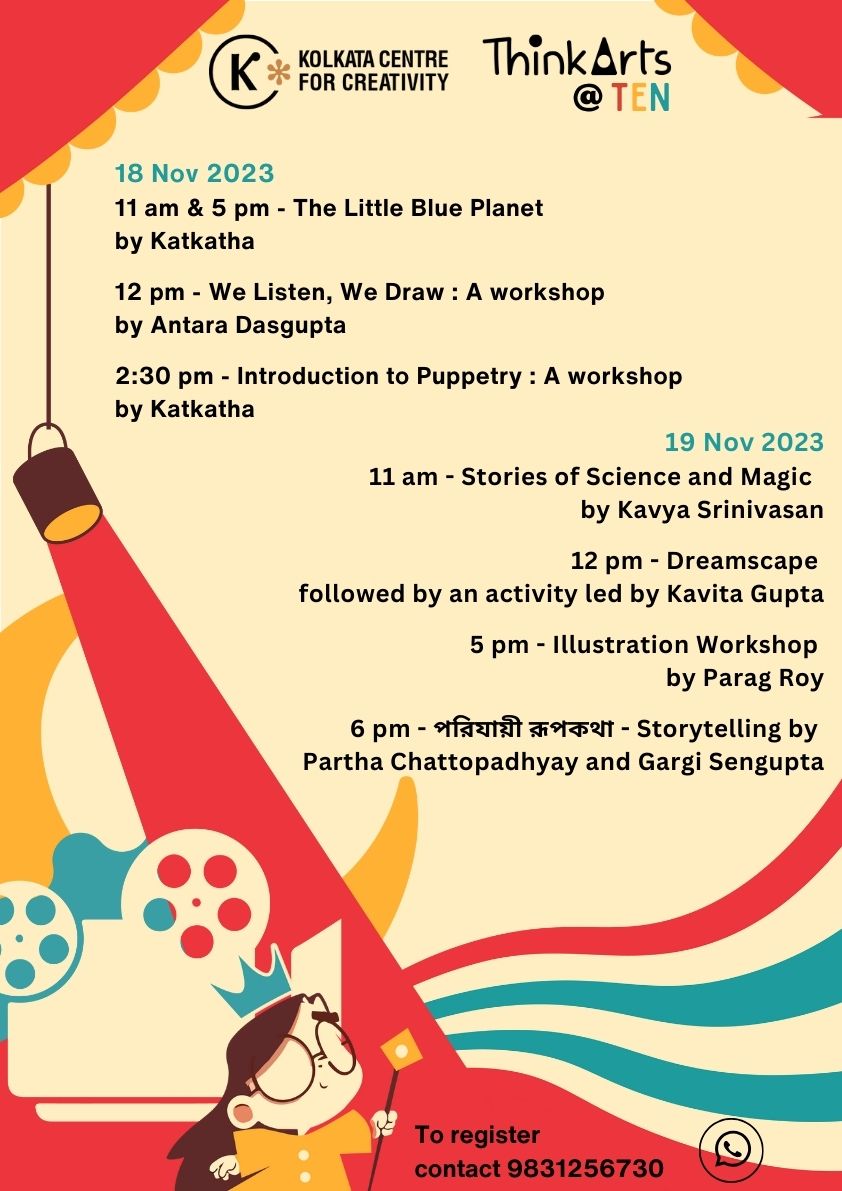 18 Nov | Saturday
12 pm – We Listen, We Draw: A workshop by Antara Dasgupta for ages 6+
This is an interactive session encouraging children to listen to different kinds of music and respond to it through artworks.
2:30 pm – Introduction to Puppetry : A workshop by Katkatha Puppet Arts Trust for ages 6+
(The workshop will be followed by a puppet show by Katkatha at 5 pm)
5 pm – The Little Blue Planet: A Puppet Show by Katkatha Puppet Arts Trust for ages 6+
A puppet theatre show that looks at the phenomena of rapid climate change in the world today caused by irresponsible human exploitation of natural resources which causes extreme weather changes, floods and droughts displacing millions around the world.
19 Nov | Sunday
11 am – Stories of Science & Magic by Kavya Srinivasan for ages 8+
How do you measure a star? Where does chocolate come from? How do stories help us understand the world? Come listen to stories of science and magic - where we think about all the things we don't know yet and how they are tied to the stories we tell!
12pm – Dreamscape Screening followed by activity led by Kavita Gupta for ages 2 to 5
Dreamscape by ThinkArts is an assemblage of sensorial experiences for children in a thoughtfully created environment, to allow children to dream and discover an imagined world through a digital art platform. This show premiered at the Wee Festival 2020 in Toronto.
5 pm – Illustration Workshop by Parag Roy, Professor at the Department of Graphics-printmaking Faculty of Visual Arts in Rabindra Bharati University, Kolkata. For ages 10+
6 pm – Storytelling in Bangla by Partha Chattopadhyay for ages 10+
Wandering Folktales, of tradition and modernity, from all over the world, compiled and translated from German, read by Partha Chattopadhyay and Gargi Sengupta.
The events are free to attend. Seats are limited | Prior registration is mandatory.
Please visit the link below to register.
Register here